I was recently intrigued by this lovely post about the Museum of Ice Cream, that was all in such beautiful pastel shades. An Event held in Los Angeles in 2017 was created by Mary Ellis Van (Maryellis · Bunn), a 25-year-old creator. The Pastel Coloured Installations  are so much fun and instagram worthy, that i was inspired to share a post all about lovely pastel cafes and restaurants I have come across on the web.
Here we go !
1. RESTAURANT PNY HAUT MARAIS designed by Cut Architectures is a hamburger restaurant in the Marais neighbourhood of Paris, France.  With Shades of Pastel Pink and Mint popping all over the restaurant, the designers have taken a rather subtle and minimal  approach to the interiors of the space. Simple yet fun seating spaces along with sleek hanging lights and planters  makes the space so welcoming and cheerful. Also, Isn't the bathroom totally tumblr-ish?
View Project Details and Images here
2.  SHUGAA – Room For Dessert, designed by party/space/design is a Desert Bar in Bangkok, Thailand. The Spiral Staircase that is inspired from sugar cubes is made of acrylic. While this beautiful dessert bar is inspired from sugar crystals, highly complimenting the menu of the restaurant, which can be seen in the crystal shaped rose gold  light fixtures and accent walls, the designers have made the space equally playful  with adding softer shades of  blue and pink along with a pop of lavender on the hand carved wooden sculptures of animals.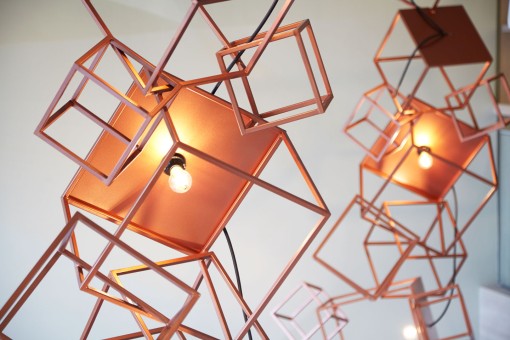 View Project Details and Images here
3. THE HOUSE OF ICE CREAM is a traditional ice cream shop in Medellin, Colombia designed by Plasma Nodo. The pastel blue colour dominates major parts of the design contrasted with a bright yellow. The blue – tiled counter and the back lit mirror along with a combination of fabric paneled benches, wooden tables, metal chairs creates a contrast of textures and materials that makes the space interesting and more appealing.
View Project Details and Images here
4. LE BALMORAL – MILK BAR is a Cafe in Brussels, Belgium.  Designed to have a Vintage vibe, gives out a hollywood feel from the 60's with pastel pink and blue booths paired with checkered tiles. The typical  70's chandelier  design, Madonna Poster and Neon Lighting lets you have a classic retro experience.
5.  LITTLE H is a deli cum cafe and health haven in UK. The Pop of Mint and Yellow against a neutral color palette is the perfect way to add pastel colours to your interiors. Keeping things minimal and subtle.
6. SWEETEA'S is a cafe designed by Iris Cantante in Philippines. While the furniture is made to adapt to various customer needs, the mountain type seating also challenges them to explore the space. The pastel colours are inspired from the branding of the cafe and is paired with the light wood furniture that is used extensively.
View Project Details and Images here
7.  NANAN PATISSERIE in Wroclaw, Poland was designed by Buck.Studio. Soft Velvet Pink Walls with arched doorways combined with brass lightings and marble table tops creates a rather surreal ambience.
View Project Details and Images here
8. Les Jardins de Sainte-Maxime is a hotel designed by  Laure Girodroux & Associés in France. Shades of Blue, Grey ad BEige compliment the warm and relaxing vibes of the hotel. Also, The ombre effect on the counter is just Wow.
View Project Details and Images here
9. MIKKELLER & FRIENDS bar and bottleshop is in Denmark, designed and decorated by RUM4 & Studio-K.  The use of untreated plywood for benches and seats combined with different shades of pastel blues gives this a rather contrast approach to design while creating a scandinavian feel.
 
View Project Details and Images here
_________________________________________________________________________________________